"Stay a while...", the golden swan seems to whisper above the gate of our hotel in beautiful Lower Franconia. For more than 600 years, the historic hotel "Zur Schwane" has been welcoming discerning travellers in the heart of Volkach, not far from the banks of the Main. Guests enjoy contemporary as well as exquisite cuisine in the Franconian Wirtsstube and in the gourmet and star restaurant Weinstock and stay in noble, authentic rooms. Exclusive wines from the family's own Prädikatsweingut complete the culinary experiences.
Direct booking advantage!
Book directly with us at the hotel - by phone, e-mail, fax or simply and quickly via our online booking and secure the best prices and the best conditions.

Book now!
Restaurants
Hospitable tradition & culinary delights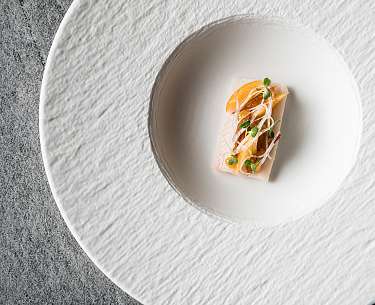 Culinary delights for every palate
More than 600 years of hospitable tradition: that is what distinguishes the Romantik Hotel Zur Schwane. Cosy rusticity and nostalgic details characterise our exclusive starred restaurant Weinstock, our cozy Restaurant Schwane 1404, the Weinstube and Ratsherrenstube. Our young kitchen team masters its craft perfectly and also gives the fine gourmandises the necessary creativity. Here, for example, the tiramisu of Volkach asparagus with vinaigrette of pink pepper and chervil as well as the saddle of lamb under a goat's cheese crust with sautéed ruccola are worth mentioning. The service is friendly and attentive, and in summer the dishes are also served in the idyllic inner courtyard. The wine list is excellent, with the restaurant's own wines, all of which are served by the glass.
Restaurant "Schwane 1404"
Our historic restaurant
Franconian hospitality, interpreted in a modern way. Whether it's a bratwurst with a glass of Silvaner at lunchtime or an exciting wine menu from the Franconian home cuisine in the evening - let us spoil you in the warmest way. In Franconia's oldest, originally preserved inn or in the vine-covered inner courtyard, guests of the house enjoy predominantly regional Franconian cuisine of the highest standard. The culinary responsibility lies with top chef Cornelia Fischer, who transfers her Franconian roots into a modern culinary style.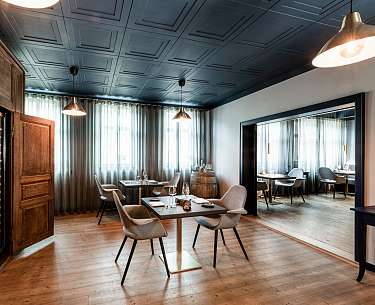 Restaurant "Weinstock" Romantik Hotel Zur Schwane
Fire & Sense by Schwane
The star restaurant "Weinstock" was awarded a Michelin star and in September 2021 received the "German Wine List Award 2021" for its wine list. Sommelier Jan Pislcajt is responsible for the wine list, while top chef Cornelia Fischer, who most recently worked for Andreas Caminada at Schloss Schauenstein, is also in charge of the kitchen. The kitchen philosophy is characterised by elegance, sensuality, origin - but above all by unconditional taste! Experience passion for regional products, craftsmanship and hospitality.
Opening hours:
Sa to Tu: from 06:00 p.m.
We, Th, Fr: day off
We will be happy to take your reservations on 09381/80660.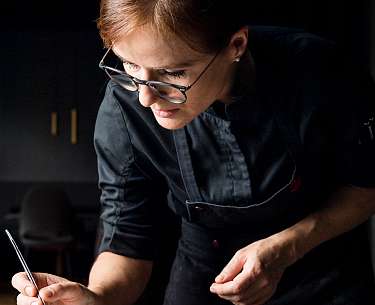 Cornelia Fischer
Our star chef
Compared to one of our wines, Cornelia Fischer's cuisine would be a wine full of character, spice and mystery. After significant professional stations such as the Tigerpalast Frankfurt, the Restaurant Überfahrt at the Tegernsee or the Schloss Schauenstein in Graubünden, the dynamic star chef has been cooking at our Romantik Hotel zur Schwane since 2021. Her kitchen philosophy: classic-modern, fresh and creative. Small delicacies from Cornelia Fischer and team can be purchased in our Schwane shop.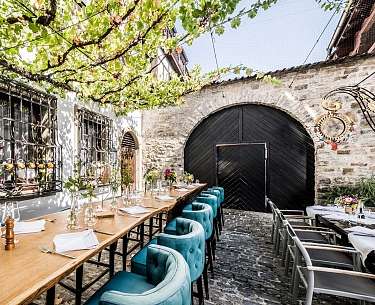 Inner Courtyard
Stylish dining in our inner courtyard
Our beautiful outdoor courtyard is particularly suitable for warm to hot days and balmy summer evenings in Volkach. Find a shady spot or enjoy the Franconian sun with a good glass of wine, surrounded by green plants and a wonderful ambience. Of course, we also serve our dishes here.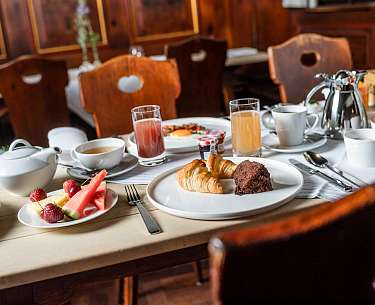 Breakfast
Good breakfast in Volkach
You have slept deeply and well, now the sun is winking into the room: Good morning! What would you like to experience today? No matter - it will be a beautiful day, which of course starts with a nice breakfast. In the historic restaurant we offer sweet and savoury, savoury and rustic, healthy and tempting. Everything is lovingly prepared with perfection in detail. But nothing else was to be expected here; after all, we want to meet your taste around the clock and in every respect - not only when it comes to food.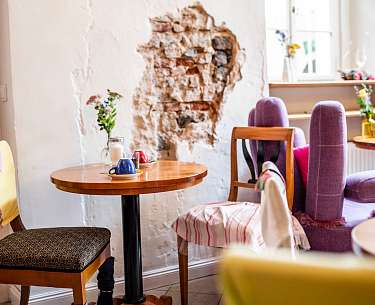 Café at Turmdieb
Homemade nibbles
In our cosy café at the Boutique Hotel Turmdieb, we offer homemade cakes and pastries, hearty dishes, delicious coffee as well as drinks and wine. Modern elements and a homely atmosphere exude the very special charm of our small café in Volkach. Here you can chat with friends over a hot or cold drink or sink into a book. Please feel free to drop by!
Book a table at Restaurant 1404 online now! Reservations for Restaurant Weinstock by telephone please.
Enjoy our delicious wine from the Mainschleife at home and order your favorite Schwane wine here. Fancy a change? In our store you will find more delicious products.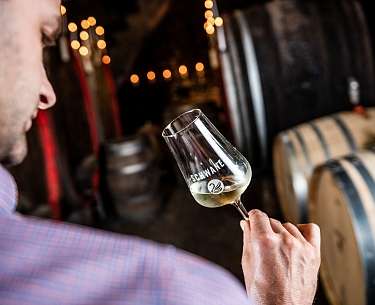 Our wine cellar
It goes without saying that we have our own wine cellar for our wines. The highlight is a wooden barrel cellar that, like the house itself, is over 600 years old. In the old walls you can breathe in the history of wine in the region and embark on an exciting journey through the diversity of our wine varieties.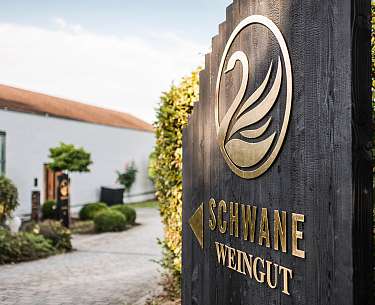 Winery & wine tasting
Your wine hotel near Würzburg
Visit our own winery Zur Schwane Volkach and find your personal favourite wine during a wine consultation. As one of the most beautiful wine hotels in Franconia, we offer you not only comfortable accommodation but also a huge range of offers on the subject of wine, including our exciting radio play show Mythos Wein or leisurely vineyard walks. For enjoyment at home, you are welcome to reorder your favourite wines in our online shop at any time.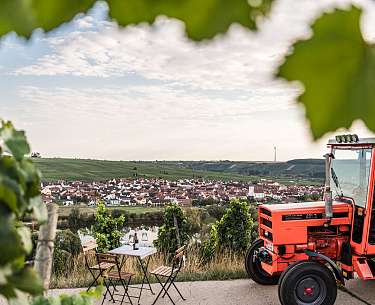 MainGenussTrail
Where does the Escherndorfer Lump get its name? We answer questions like these and many more on our MainGenussTrail. Our guide Marion and our chef Ralph will hike with you around the Mainschleife and provide you with good wine and delicious snacks from the Schwane kitchen at four stops. The pleasure trip takes place on various dates on Sundays from 11 am - 4 pm. In addition to our fixed dates, we are also happy to plan your own MainGenussTrail with you.
Our 2023 dates: 21 May, 18 June, 20 August, 17 September, 22 October, 26 November.
Cost: 75€ per person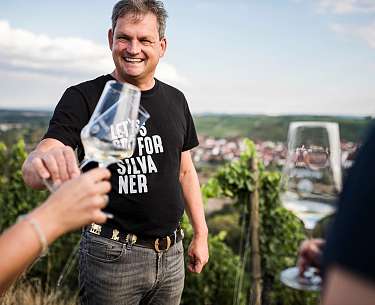 Wine hike
Wine hike with the hosts
The Düker host family is happy to take their guests into the house's own vineyards while good weather and explain everything about the top vineyards, led by the Escherndorfer Lump and the Volkacher Ratsherrn, during a leisurely hike. These two steep slopes set the standard for demanding viticulture with the utmost care. Low rainfall and long growing seasons combined with consistent yield limitation make it possible to bottle truly great wines and proudly serve them to the guests of the Schwane. Afterwards, the wines may be tasted in our over 600-year-old wine cellar.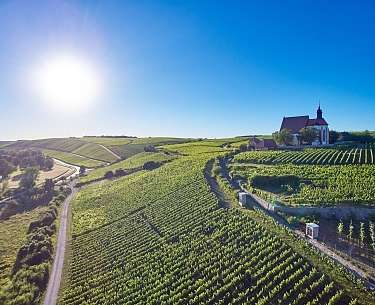 Volkacher Ratsherr
Our home location
The Volkacher Ratsherr is the home site of our wine hotel. It is a steep slope that transfers the taste of the shell limestone into the bottle. The wines from this vineyard are characterised by the high ripeness of the grapes and are harvested in selective hand-picking. In this way, top wines are produced that have to meet the strictest requirements to ensure the highest quality. From the "Ratsherren" come our "great grows", which you are welcome to take home as a souvenir after your stay in our wine hotel in Volkach. A tip: You can always get a refill via our online shop.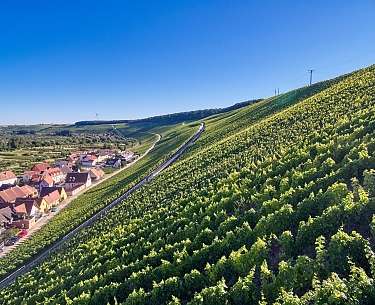 Escherndorf am Lumpen
Escherndorf am Lumpen 1655: Riesling & Silvaner
This vineyard is characterised by its breath-taking steep slope with a gradient of up to 60 percent. The Silvaner and Riesling grape varieties ripen here and are later made into exceptional wines.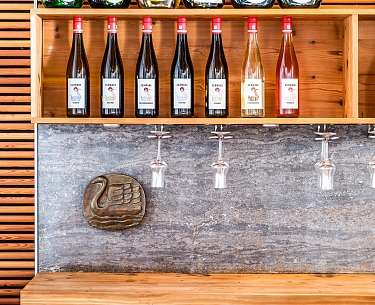 Our predicate wine
Vibrancy and freshness
Our excellent vineyards on the Mainschleife shape the special character of our home-grown wines. We own a family-owned Prädikats-Weingut (VDP) and cultivate our precious Silvaner, Riesling and Burgundy vines down to the smallest detail. Inspired and shaped by the shell limestone contained in the soil, we are constantly coming up with new ideas for our wines, which are full of quality and character - from fruity and light to expressive.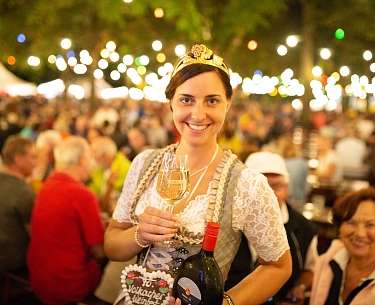 Wine festivals
Wine connoisseur meeting in Volkach
Every summer, the town of Volkach hosts the largest wine festival in Franconia, which welcomes around 50,000 visitors every year on five days in August. At the Wine Gourmets' Meeting, the winegrowers of the region present more than 120 Franconian wines at the over 70-year-old folk festival. All of our Mainschleife wine festivals in the area are always something very special due to the deep regional connection to Franconian wine and offer not only authentic enjoyment but also varied concerts and unforgettable summer moments.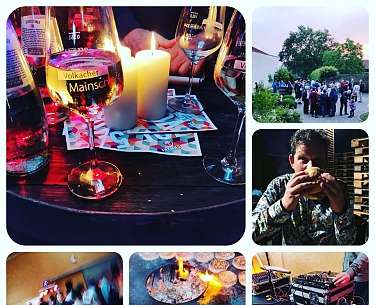 Wine & Chill
... with tasty drinks and cool beats.
Swan-like summer wines, cocktails, burgers, music & a chilled-out atmosphere in the fresh air: at our in-house Wine & Chill Party you can relax, dance or just spend a nice summer evening with delicious drinks. Bring your friends and enjoy yourselves! In case of bad weather, the event will take place indoors.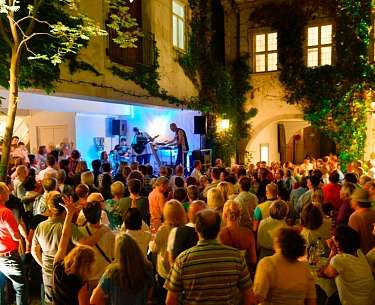 Volkacher Lebensart
... in the cosy old town
The culinary-musical Winzerhof Festival Volkacher Lebensart will take place this year from 09 to 10 June 2023 in the old town of Volkach. Look forward to delicious wines, good company and small concerts.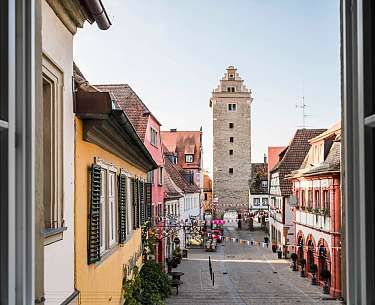 Stroll through the old town of Volkach
Cosy alleys & sights
In Volkach, travellers will find a historic old town that still breathes the breath of history. Take part in one of the guided tours of the town here, stop off at the Kartause Astheim museum in the neighbouring village of the same name or simply let yourself drift through the old alleys. In the pilgrimage church Maria im Weingarten you can admire the Riemenschneider Madonna.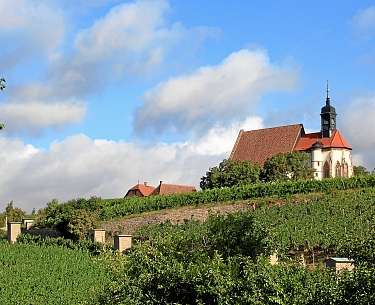 Maria im Weingarten
Place of pilgrimage & art history
The Catholic pilgrimage church Maria im Weingarten, which is open to visitors from April to October, is enthroned on Volkach's Kirchberg. Surrounded by green vineyards, small guided tours can be booked here and the art of Tilmann Riemenschneider can be marvelled at.
The famous wooden Rosary Madonna, which attracts numerous visitors every year, has an exciting history behind it: in the summer of 1962, it was stolen as part of a spectacular art theft. A ransom of DM 100,000 was demanded for the precious Gothic work of art, which was later paid to the thieves, partly due to the commitment of publisher Henri Nannen. It was not until a year later that the Madonna was brought back to Volkach after an elaborate reservation and is still the destination of pilgrims and art historians today.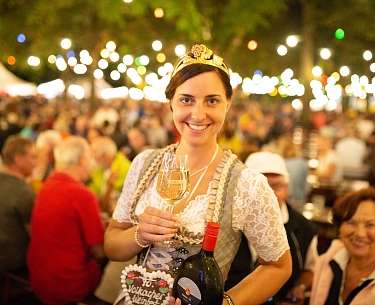 Events
Franconian joie de vivre in Volkach
In addition to wine festivals, our cosy little town has much more to offer in terms of culture and entertainment, including, for example, concerts, fairs, markets & flea markets. So you can make your holiday active and varied. All current dates and events can be found here in the Volkach events calendar: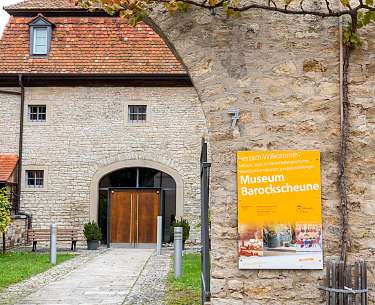 Barockscheune
Feel the history of Volkach
Within the framework of the exciting permanent exhibition in the local museum Barockscheune, you can see and feel the landscape, culture and history of the town of Volkach. The regional and town history museum highlights topics such as early history, everyday history or viticulture. The centrepiece of the museum is the Salbuch (Sal Book) of the town scribe Nikolas Brobst from 1504. The building itself is also a thoroughly historic site - built in 1714, it was formerly used as a barn and is now the perfect setting for the present museum.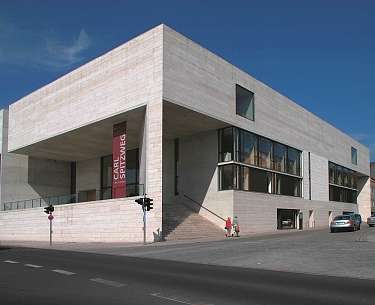 City tours
City and themed tours in Volkach
Discover the old town on foot, take a gourmet canapé tour, travel to Maria im Weingarten or explore the town in a handcart: The Volkach city tours with a tour guide are a great way to learn interesting facts about the little town together - as a group or as a solo traveller. Take a leisurely stroll through the Franconian alleys and let them show you the most beautiful corners. Maybe there will even be a little drink afterwards...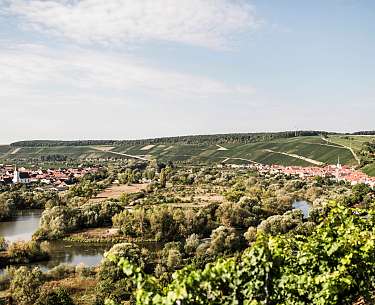 The idyllic Mainschleife
Water, wine & a wide view
The Volkacher Mainschleife is the perfect destination for your short holiday. Over millions of years, the Main has formed this unique loop in the heart of Franconian wine country between Schweinfurt and Würzburg. Here you can enjoy wonderful hiking, cycling and horse-drawn carriage tours or excursions by ship or boat on the Main. You can get close to nature and the forest in the tree-top walk in the Steigerwald. Explore the surroundings from one of the most beautiful hotels on the Mainschleife!
On the Main near Volkach, the vineyards can also be enjoyed perfectly from the water. There are numerous opportunities to do so: Mini-cruises depart from the pier near our wine hotel, taking you on leisurely raft trips past the famous Eschendorfer Lump or Katzenkopf vineyards.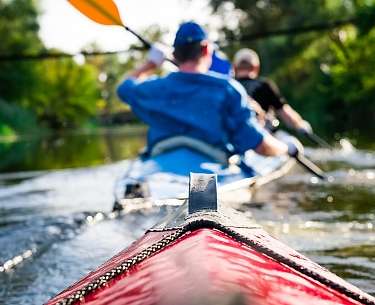 Kanu
Abenteuerliche Kanutouren
Die perfekte Mischung aus Action und Erfrischung: In der Sommersaison ab April haben Sie die Möglichkeit bei Waterwalker, der Kanuvermietung an der Mainschleife, unterschiedliche Kanu- oder Stand Up Paddling Touren zwischen Volkach und Sommerach zu buchen.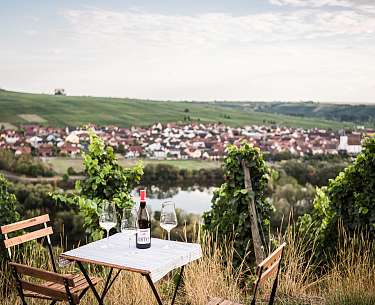 Hiking
Hiking at the Mainschleife
Hiking in Franconia becomes an experience with the right hotel. The Romantik Hotel zur Schwane in Volkach on the Mainschleife in Franconia is the perfect starting point for the most beautiful hiking routes in Franconia. Not far from Würzburg, the hotel is located in one of the most beautiful towns in Franconia in a magnificent landscape. Guests who have once been hiking with us on the Mainschleife in Franconia love to return. The versatility of the region near Würzburg is too tempting. Starting from our hotel in Franconia, every enthusiastic hiker discovers his perfect hiking route. We will gladly prepare a delicious snack backpack for you to fortify yourself along the way.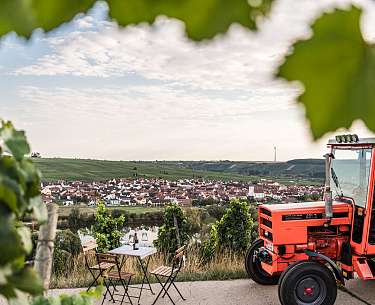 MainGenussTrail
Where does the Escherndorfer Lump get its name? Questions like these and many more will be answered on our MainGenussTrail. Our guide Marion and our chef Ralph will hike with you around the Mainschleife and provide you with good wine and delicious snacks from the Schwane kitchen at four stops. The pleasure trip takes place on various dates on Sundays from 11 am - 4 pm. In addition to our fixed dates, we are also happy to plan your own MainGenussTrail with you.
Our 2023 dates: 18 June, 30 July, 20 August, 17 September, 22 October, 26 November.
Cost: 75€ per person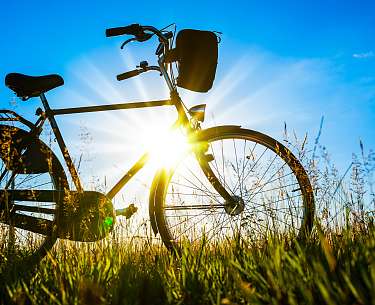 Cycling
Most bicycle-friendly hotel on the Mainschleife
On your bike, experience the winding paths of this equally fascinating and unique region. On the MainRadweg you can follow the river from its source to its mouth over a distance of approx. 600 kilometres. Along the Main Loop, you cycle between sunny vineyards, through charming villages and historic small towns. The weather usually plays along, too, as a comparatively low amount of precipitation is recorded along the Mainschleife. This is also one of the secrets why particularly exclusive and characterful wines are produced here. There are numerous repair or charging stations for e-bikes along the way. If you are travelling without your own bike, you can borrow the right equipment at a rental station in many places along the Mainschleife - including at the Romantik Hotel zur Schwane in Volkach. Rent bicycles from us and experience the Mainschleife in all its beauty. On the flat, relaxed tour you can cycle as far as Wipfeld, cross over there by ferry and occasionally "dive" into the side arms of the Main (approx. 25 km) and let yourself "drift" down the Main again. The more sporty tour leads via Fahr to Eisenheim, then over the ridge of Vogelsburg Castle to Escherndorf, Nordheim, Sommerach, Schwarzach and back to Volkach via Dimbach Forest (approx. 40 km). Charming wine villages, large monasteries, the Main River and interesting forest meadows characterise the route. Of course, we have a cycling map of the region and our bulging picnic bag ready for you.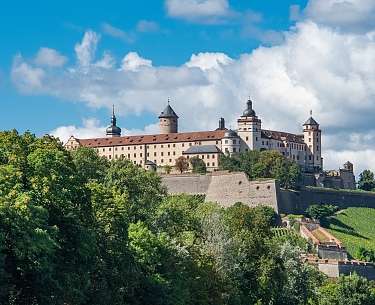 Würzburg
Historical city flair
Close by, only about 25 km from our hotel in Volkach, is the charming city of Würzburg, which welcomes you with its beautiful historic buildings, a pretty city centre and some great sights. Cultural highlights include the Würzburg Residence from the Baroque period or the Marienberg Fortress, which towers high above the city.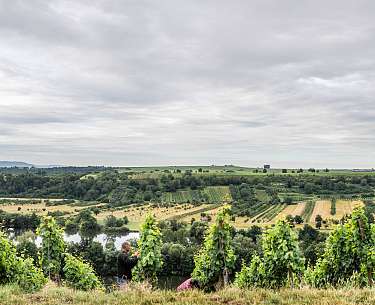 Tour suggestions
Suggested tours around Volkach
For cyclists, the Pfaff-Düker family has prepared some wonderful tour suggestions along the Mainschleife. Whether it's a leisurely cycle along the Main, a short day tour or a stage tour for several days, there is something for everyone. Are you looking for a reliable bicycle rental Volkach? Let the Schwane team inspire you and rent a bike directly at the hotel.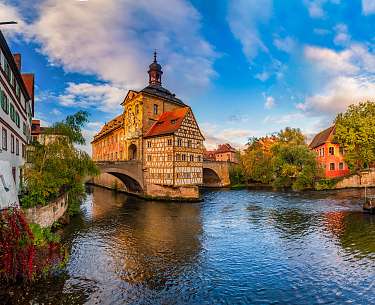 Bamberg
Franconian Rome
Less than an hour's drive from Volkach is Bamberg, a historic town in Bavaria with fascinating architecture from the 11th to 19th centuries, many small sights and a pleasant pedestrian zone. Visit the Romanesque Bamberg Cathedral in the beautiful old town or discover the Old Town Hall, which is located on an island in the Regnitz River and can only be reached via arched bridges. Beer connoisseurs and gourmets appreciate the delicious aromatic smoked beer of traditional production, which is produced in two breweries in Bamberg. Let yourself be convinced by the very special atmosphere of the city at the mouth of the Main and Regnitz rivers and plan a little city trip from our hotel.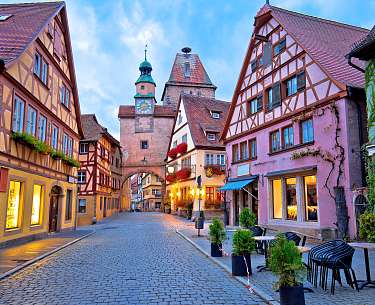 Rothenburg ob der Tauber
Fairytale alleyways & magical atmosphere
South of Volkach, less than an hour's drive from our Romantik Hotel Zur Schwane, lies the beautiful town of Rothenburg ob der Tauber. With its medieval flair and the so-called Plönlein, the town's most popular sight and most frequent photo motif, it attracts numerous visitors. The ensemble of buildings of the Plönlein also includes a fountain and the two towers of Rothenburg's old town wall. The Siebersturm tower leads into the hospital quarter, while the Kobolzeller Tor tower, built in 1360, points the way to the Tauber district on the right.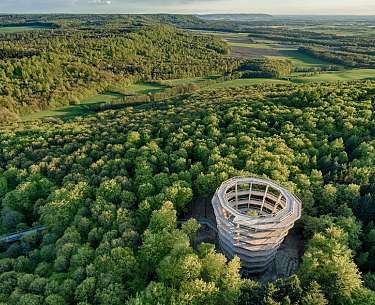 Treetop path
Floating between treetops
In harmony with nature: experience the forest and nature up close and enjoy a little adventure in the middle of the greenery. The accessible treetop path in the Steigerwald Nature Park in Ebrach runs mainly at treetop level and leads to a tower 42 metres high, from where you can enjoy completely new impressions of nature. There is also a red deer and roe deer enclosure, a petting zoo and a playground. The physical well-being is taken care of. Perfect for the whole family!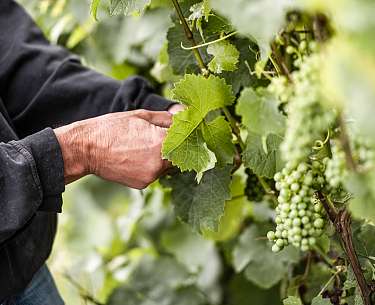 Winery and wine tasting
Visit our winery and find your personal favourite wine during a wine consultation. For enjoyment at home, you can order your favourite wines at any time in our online shop.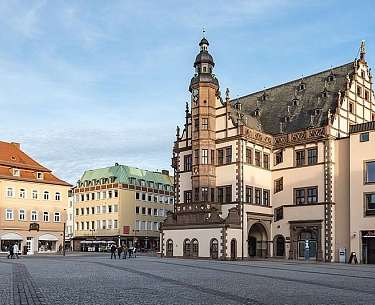 Schweinfurt
A Franconian university town
Schweinfurt is not only a popular university town, but also known as a Bavarian wine and art town. Around 25 km from Volkach, there is plenty to discover here: Stroll through the streets and visit the market square and the beautifully restored town hall, which adds a certain flair to the little town. If you want to be educated or entertained on a cultural and artistic level, the Kunsthalle is one of the places to go. In addition to a permanent exhibition and regularly changing exhibitions, various events also take place here. Would you like to marvel at famous original works by Carl Spitzweg or Caspar David Friedrich? The most important private collection of 19th century art can be found in Schweinfurt's Museum Georg Schäfer.
Celebrations & meetings
Celebtrations & meetings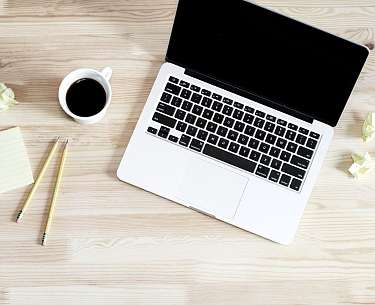 Be creative & meet
Be creative in an extraordinary ambience
The Düker family puts a lot of heart into ensuring that your conference in this small hotel has an individual flair. Only one conference at a time takes place at the Romantik Hotel Zur Schwane. This, and the cosy ambience under the painted coffered ceiling or in summer in the beautifully paved inner courtyard, will make your seminar a special event. You can round it off with an eventful social programme with vineyard walks and cellar tours in your own winery, wine tastings with Eva Pfaff-Düker, morning jogging along the banks of the Main or you can visit Franconian cultural assets.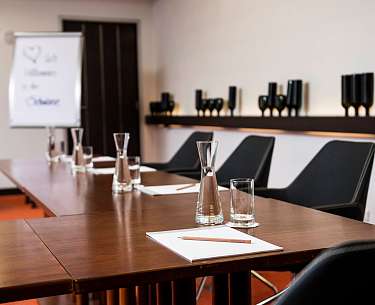 Meeting room Winzerei
Workshops in the Winzerei
Our Winzerei has a size of 90 sqm and is bright and flooded with light due to the floor-to-ceiling windows for up to 25 persons. The adjoining courtyard, which is directly accessible from the room, is perfect for a short break. The room can be darkened by curtains and is of course equipped with air conditioning. Whether classic conferences, meetings or active workshops: Experience a great conference room in our Winzerei that leaves all possibilities open to you.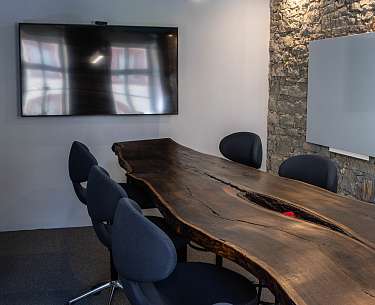 Meeting room Gendarmerie
Small meetings in grand style
Be creative standing up or sitting down: In our meeting room "Gendarmerie" you can do both. Our high table made of solid Spessart oak offers both possibilities. With the working walls on the wall, all topics, ideas and suggestions can be summarised simply and easily. The room offers space for max. 10 people and has a size of 20 sqm.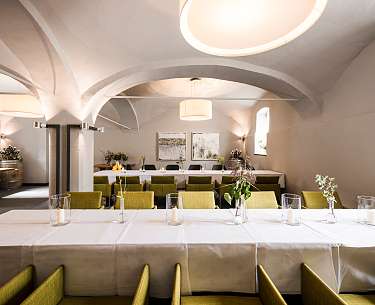 Kreuzgewölbe
Our exclusive event location
Celebrate your private events in our historic cross vault and enjoy a very special atmosphere with your guests. The beautiful room with cross-vaulted ceiling in our main house is perfect for family celebrations, birthdays or other festivities. Plan your big or small day together with us and let yourself be spoiled by our service and culinary offers. We will be happy to assist you with planning and implementation and look forward to your very own celebration in our unique Volkach event location.
MainGenussTrail
Where does the Escherndorfer Lump get its name? What is a baffle slope? Where is the Mainschleife? Back to the Triassic. Swans on wheels. What does wine taste like? Where does the wine grow?
You will learn this and much more on our MainGenussTrail. Join our guide Marion, the Schwane cuisine and the wine on a hike around the Mainschleife.
Our MainGenuss dates 2023 are:
16.04. | 21.05. | 18.06. | 20.08. | 17.09. | 22.10. | 26.11. |
(subject to change)
For further information, please call +49 9381 5529641 or visit info@schwane.de.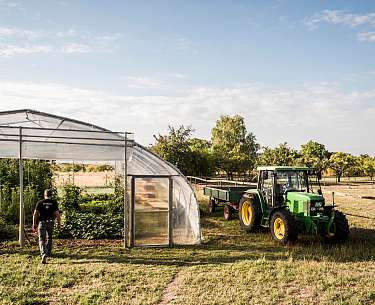 Sustainability
Since 2022, our greenhouse has been located at the winery at Erlachhof. Cornelia Fischer and her colleagues cultivate, care for and grow some of the organically grown vegetables that are needed for our two restaurants. Thus, we determine the time of harvest and the degree of ripeness ourselves. In addition, we avoid long transport routes and reduce the burden on the climate. At the same time, we can offer our guests delicious, fresh and regional dishes.
We are also sustainable in the area of mobility with our e-car. There are 8 e-charging stations for our guests.
The photovoltaic system on the roof of our winery supplies us with an additional 60 KW.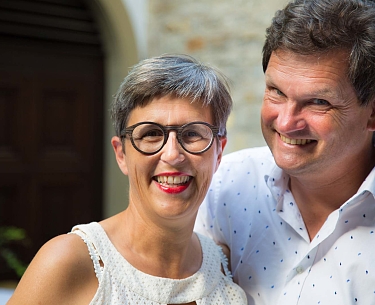 Our Hosts
Our Hosts
With a warm "Grüß Gott", the two hosts Eva Pfaff-Düker and Ralph Düker have been welcoming their guests for many years. The winemakers not only share a love of hospitality, but also a love of wine. Thus, the boutique hotel also includes the winery of the same name. As winegrowers, they maintain the long tradition of the house and like to take their guests into the vineyards. The Düker family has been running the hotel "zur Schwane" for three generations and is deeply rooted in the Franconian region. The more than 40 employees are also mainly from Franconia and put a lot of passion into the beautiful hotel in Volkach am Main.
Romantik Travel - Our travel podcast
Romantik Hotel Zur Schwane
Our partner company Turmdieb
Our partner company hotel and café Turmdieb
The check-in is possible from 3 pm.
The check-out is possible until 12 pm.
VISA, Mastercard, American Express, Girocard, cash.
Our reception is open daily from 6 am - 0 am.
Yes, pets are allowed at our hotel. This includes also large dogs. The fee is 15€ per day. However, for your visit to the restaurant, please leave your four-legged friend in the room out of consideration for the other guests.
Yes, all rooms are equipped with free wifi.
Yes, you can use your Romantik Card with us and benefit from the advantages.
Our hotel has its own, free and secured car park directly at the house. In our hotel garage you can store your car for 5€ per 24 hours.
Facilities
at Romantik Hotel Zur Schwane
Central Location
Electric Car Charging Station
Lift
Meeting Facilities
Parking Area
Pets Friendly
Sauna
Terrace
Romantik Hotel Zur Schwane
Familie Düker
Hauptstraße 12
Germany-97332 Volkach
DE_Lower Franconia -

A3, Exit Kitzingen/Schwarzach

IC/ICE station Würzburg: 26km

Airport Nürnberg: 90km
Airport Frankfurt: 150km
Airport München: 260km